London Zoo's Tiger Cub, First Born At Zoo In 17 Years, Drowns
London's coolest gravestones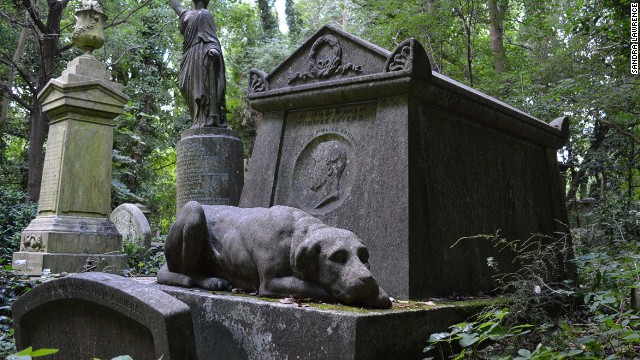 STORY HIGHLIGHTS Keepers "heartbroken" as tiger cub found dead in enclosure at London Zoo Newborn animal believed to have drowned in pond after mother carried it outside Three-week-old cub was first Sumatran tiger to be born at zoo in 17 years London (CNN) — Keepers at London Zoo are "distraught" after a newborn tiger cub — the first Sumatran tiger born there for 17 years — drowned in a pool at its enclosure. The animal was born to five-year-old first-time-mom Melati just three weeks ago, and its arrival was greeted with huge excitement and celebration at the zoo, where experts were "over-the-moon" about the birth. But on Saturday, keepers raised the alarm when they could no longer see the young tiger on cameras inside its den; a search of the enclosure revealed the animal's body. It is thought Melati carried the cub out into the paddock area of the zoo's "Tiger Territory," where it fell into the pond and drowned. Meet the newest resident at London Zoo Animals weighing in at London Zoo Wanted: Female for last surviving fish "We're heartbroken by what's happened," said London Zoo's Malcolm Fitzpatrick. Melati is said to be a very nervous tiger who prefers routine, and experts at the zoo had opted to allow her full access to the whole enclosure fearing that any changes to her environment might cause her to injure or abandon her cub. "At the time we thought it was in the best interests of Melati and her cub to allow her continued access to the full enclosure as normal," Fitzpatrick said. "We didn't want to put her on edge by changing her surroundings or routines, in case she abandoned or attacked the cub." London Zoo is to carry out a full review of the circumstances which led to the cub's death. "We would do anything to turn back the clock, and nobody could be more upset about what's happened than the keepers who work with the tigers every day," said Fitzpatrick. They are devoted to those tigers and are distraught." The zoo had kept Melati's pregnancy a secret for about 105 days before her cub was born on September 22. Hidden cameras were installed in her enclosure to keep watch over her throughout, and the speedy birth, which lasted just six minutes, was also caught on video.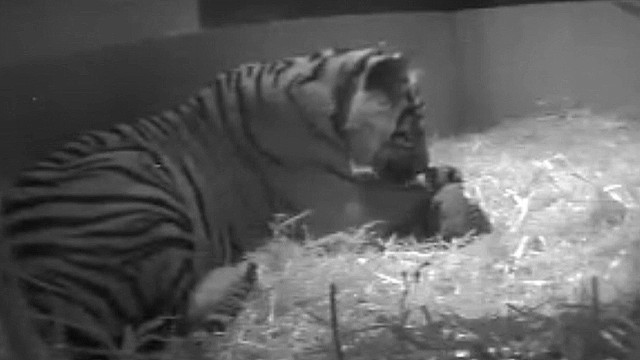 St Mary Magdalen Church , 61 North Worple Way, Mortlake; + 44 208 876 1326 Frank Bostock: Guarded by London's loveliest lion Many London cemeteries have a lion — animals of all stripes are well represented in its graveyards — but perhaps the most elegant has since 1912 slept in the jungle that is overgrown Abney Park in Stoke Newington. The beautiful stone-carved creature commemorates menagerist Frank Bostock, who traveled the world with big cats, occasionally branching out to camels and hyenas. "People stroke the Abney Park lion's left paw for luck — the marble is bright and shiny as a result," says Catharine Arnold. Abney Park Cemetery , Stoke Newington High Street, Stoke Newington; +44 207 275 7557 Let's be grateful Hardy moved on from grave-keeping. Thomas Hardy: The tree of death Acclaimed author Thomas Hardy's first job, in the 1860s, was at St. Pancras Old Church, where he helped to exhume thousands of skeletons from the cemetery in the way of the new Midland Railway line. The bones were reburied, but Hardy was left with the gravestones. He got rid of some by stacking them around a young ash tree. Whether or not he meant the solution to be permanent, roots and stone are today completely fused. The ancient churchyard, once a haunt of grave robbers, is now one of the most peaceful places in busy St. Pancras. St Pancras Old Church , Pancras Road, London Hannah Courtoy: The spinster's 'time machine' "It looks like Dr. Who's TARDIS as designed by the architects of the Death Star," says author and publisher Mark Pilkington, who's been investigating time machine claims about the mysterious last resting place of three Victorian spinsters.
Hotel Near London's ExCeL Toasts the 50th Anniversary of "Doctor Who"
Guests of this London hotel near ExCeL , for example, can channel their inner Doctors when they sip the Laser Screwdriver's powerful mix of vodka, Cointreau, Passoa and passion-fruit juice, all of which is poured over a dollop of passion fruit-and-mango sorbet in a martini glass. The Sonic Screwdriver adds a touch of bubbly with vodka, Orange Curacao, a dash of grenadine and a topper of Champagne, all served in a Champagne flute and garnished with a playful twist of orange. The Dalekquiri, meanwhile, nods to The Doctor's worst enemies, the Daleks, and accordingly caters to a more decadent taste profile with vodka, Kahlua, Bailey's Irish Cream with a Hint of Mint Chocolate, chocolate liqueur and banana served, appropriately, within a hurricane glass. Sipping any one of these specialty cocktails may not turn guests into The Doctor or his companion, but they will afford them the opportunity to experience one of the finest restaurants overlooking Canary Wharf . Visitors can choose to relax in the newly refurbished Lobby Bar, or book a table at Manhattan Grill, an upscale steakhouse where stylishly inviting decor meets painstakingly prepared steaks and other entree options like linguine and salmon. This Canary Wharf restaurant also offers private dining for groups of 10 to 40, an exciting option for not just "Doctor Who" fans looking to gather at a hotel near London's ExCeL after the event, but for anyone interested in booking an exclusive culinary experience. While "Doctor Who" will live to save another day in the next season, guests can only taste these specialty cocktails for the duration of the anniversary event. After then, those who missed the opportunity will need their own TARDIS to try them. About London Marriott Hotel West India Quay With 279 guest rooms, 22 suites, 20 meeting rooms and four concierge levels, the eight-floor London Marriott Hotel West India Quay is as impressive in its statistics as it is in its visual splendour. The glass-and-steel structure towers over the Canary Wharf district, where guests can easily access international businesses, leisure pursuits like shops and restaurants and major event venues like ExCeL, The O2 and Queen Elizabeth Olympic Park. Given its vibrant surroundings, this five-star hotel creates an equally dynamic guest experience. Guest rooms are clean-lined and stylish as they afford amenities like 300-threadcount linens, flat-screen televisions, spacious work areas with laptop safes and, in the case of the seven Curve Suites, breathtaking panoramic views.